Booking Info
What's the minimum order?
---
Yes. At this time, the minimum decor order is $350 for Friday-Sunday events and $250 Monday-Thursday. Online shop orders begin at $100 not including delivery costs. Delivery is Monday-Friday based on availability.
---
Will you hold my event date? (I haven't decided what I want yet.)
---
We book events on a first paid first booked basis. We will gladly hold your event date on our calendar in one of two ways: 1. The Date Reservation Fee. A non-refundable payment of $250 that is applied to your final bill. 2. Decor Payment. A non-refundable payment of at least 50% of the estimated total order (cannot be less than $250) that is applied toward your final bill. The Date Reservation Payment is particularly helpful for those that have popular event dates, book extra early and do not need to decide on decor so far out from the event, or are still uncertain about the decor and need more time in the planning stage. Having us booked with a payment ensures we will have your event date reserved to work on YOUR event!
---
How can I make sure you have my date held?
---
We will reserve your event date on our calendar once the date reservation fee is paid. It's a $250 non-refundable fee for us to hold your date, not accepting other client requests in the time slot that has been held to accommodate driving to and from your location and the setup time involved.
The date reservation payment is applied toward your final balance.
If you've paid at least $250 toward your balloon order, then the date reservation fee is considered paid with $250 of the payment being non-refundable.
We book events on a first paid first booked basis and are unable to accommodate every event request we receive at this time. The date reservation fee ensures we have your event on our calendar and will remain available for delivery & setup services.
---
When and how do I pay for my order?
---
Before we reserve any date on our calendar, payment of at least $250 must be received. (either date reservation fee or at least 50% of the invoice).
​
Balloon decor orders need to be paid-in-full at least 2 weeks prior to the event date. We do not order supplies, create, inflate or deliver balloons without full payment at least prior to the day of your event. Completing your order and making full payment within 7 days of your event date is subject to a Rush Order Fee. The same day or next day Rush Order Fees are increased.
We will email you an invoice that allows you to pay via credit card online. We will accept checks mailed to our office only if your event is more than 30 days away. Please make checks payable to Eye Candy Balloons.
For organizations (businesses, corporations, schools, non-profits), we expect full-invoice payment for all balloon decor orders prior to the event. However, we understand that there many be different payment policies in place and will gladly work with you on other payment terms if necessary.
Our mailing address is:
Eye Candy Balloons
P.O. Box 10331
Bedford, NH 03110
---
What are the delivery & setup fees?
---
Delivery fees vary by location and factors such as traffic, tolls, parking, and time of day.
​
Minimum Delivery Rates for Select Areas (estimates):
Manchester, Bedford, Goffstown - $35
Salem, Nashua, Concord - $70
Durham, Andover, Lowell - $100
Portsmouth, Laconia, Dover, Kittery - $120
Boston - $200
Setup fees are determined per event and are based on factors such as how much time spent onsite for install, time loading and unloading, vehicle rentals, time of day for setup, etc.
Delivery & Setup costs are calculated for each specific event and billed as one item on the invoice.
---
What payment methods do you accept?
---
We accept payment via all major credit cards; VISA, MasterCard, American Express and Discover through online payments as well as Stripel payments. We also accept company checks and personal checks received at least 30 days prior to your event.
---
What are the equipment collection & clean-up fees?
---
We often build large decor elements on equipment owned by us that we need returned. The fee for us to return at the end of the event to collect our equipment and clean-up the balloon decor is based on similar factors that we use for deliery & setup fee calculation. 75% of the time we are returning post-event for equipment collection and clean-up, especially in the case of balloon arches, columns, and framed decor. There are times when we have not used equipment that we need returned and the client takes the responsibility of post-even clean. In this case, there are no equipment collection and clean-up fees billed by us.
---
---
General Info
Can I get a bulk discount?
---
While we really value your business, we do not offer discounts on volume orders. The amount of materials, time, and labor we spend to make one design does not decrease with subsequent designs since all parts of your decor are hand-made by us.
---
Can we schedule an in-person meeting?
---
We have rarely found an in-person meeting to be necessary for us to do our job. If we do need to meet, it's more beneficial to meet at the venue where we can take measurements and photos to help us better design your balloon decor for the event space.
If you feel an in-person is a must, we'll accommodate your request as it fits our schedule with a minimum cost starting at $75 for 20 minutes within 15 minutes of Bedford, NH. The cost increases based on time and distance.
---
What areas do you service?
---
Our local delivery is a 40-minute radius of Bedford, New Hampshire, including Manchester, Concord, Nashua, and Salem, and areas in between. Our extended delivery area is approx 2 hours from Bedford, NH and includes cities such as Portsmouth, Portland, ME, Laconia, Hanover, and Boston area as oordinate travel to your events in other parts of New Hampshire, Maine, Massachusetts, and Vermont. We are available for nationwide travel.
---
Can I call you?
---
We work with you via email to gather the event details and exchange photos and ideas. Having our communication in writing through emails benefits both parties by ensuring event details and balloon orders are accurate and making event info easily accessible and retrievable for either party at any time.
​
Working with you through email also allows us to respond to you sooner because we can send that much anticipated email from us while working onsite at event locations and and outside of regular business hours.
In the event, we need to clarify details, we will work with you to schedule a phone conversation. We do not provide pricing over the phone.
---
Will you inflate balloons I provide?
---
We aren't a fan of this, but if you insist, we will do our best. Please know the following:
We will inflate balloons you've purchased, however, it is your responsibility to get them to us prior to the event in a timely manner.
​
Understandably, we are unable to guarantee the quality of any balloons not purchased and provided by us. We charge the same price for the balloons we provide as balloons you provide to us. Full payment before inflation is required. If the balloons are defective and pop during or after inflation, no refund will be granted.
​For balloon decor, we will only use our balloons we provide as as we know and trust the quality and performance of our balloons and value our great reputation with the work we provide to clients.
---
Can you create custom decor for my event?
---
ABSOLUTELY! We love creating decor for YOUR event to match your theme & colors and give it the extra details that special events deserve. Get started with us on the Decor Request Page!
---
Can I pick up my balloons?
---
Pickup is not an option at this time. Our main focus is on creating amazing balloon decor that we setup & install onsite for your so you don't have to worry about transporting balloons or the professional setup that we take care of for you.
---
Can you decorate a venue that doesn't allow helium balloons?
---
Absolutely! There are many different décor options for balloons such as air-filled balloon structures that will not float away. Air-filled balloons last longer than helium balloons and still provide the "wow" factor.
---
Do you have latex-free balloons?
---
Absolutely! We're happy to give you options that do NOT involve latex so you can enjoy awesome balloon decor at your event!
---
---
Policies
Cancellation Policy
---
Once you pay the non-refundable date reservation fee, we add your event to our calendar. When your order balance is paid-in-full, we purchase all the supplies needed to complete your job and make the necessary logistical arrangements including staffing. We value your event and are fully invested and committed to doing an exceptional job.
​
If you cancel your order more than 30 days prior to your event, we will credit your account for the amount paid and put it toward your next event decor order with us, however, we will not issue any refund.
​
If you cancel your order in 30 days or less from the event date, no credit or refund will be issued and we will release the event hold on our calendar for your event.
---
Outdoor Balloon Policy
---
While we love doing outdoor events for our clients, we do not guarantee the quality or duration of any balloons that are placed/used outdoors. We make every attempt to have your décor looking its very best at the time it's assembled. We use only professional supplies and quality materials, however, weather is unpredictable, and wind, humidity & heat especially take their toll on balloons.
---
Balloon Release Policy
---
We are magical moment lovers who care about
celebrating life as well as the earth and the environment and about doing our part to be responsible and educate. We are committed to the best balloon practices both for our clients and the world we live in. As a proud member of PEBA (Pro-Environment Balloon Alliance), we are taking a stand against the deliberate release of balloons into our environment and are working to educate the general public about the positive environmental side of balloons as well as the correct use and disposal of balloons to reduce liter in our environment and the harm to any animals in the wild.
---
---
About Us
What makes Eye Candy Balloons special?
---
We care about you and your event! We invest in our clients and their special events to make the process be as seamless and hassle-free as possible with great service for a beautiful end result.
We strive to make sure each client receives excellent customer service throughout the design and booking process as well as during the event setup, post-event clean-up, and beyond.
We use only the best quality materials in all our designs and we pay close attention to detail in every step of our creative process to ensure you receive the best quality product from us. We are locally owned and operated so when you purchase balloons from Eye Candy Balloons, rather than a national chain, your money stays within the community.
​We are also the only practicing Certified Balloon Artist in the State of NH and take great pride in our work!
---
What is a Certified Balloon Artist (CBA)?
---
Certified Balloon Artist (CBA) is the only internationally recognized accreditation within the balloon industry and is a prestigious honor in the industry. Certified Balloon Artists are a group of balloon professional who successfully complete a series of tests, including oral interview and a 4-hour practical exam. The certification is administered by the Qualatex Balloon Network, a professional organization dedicated to the pursuit of excellence in balloon decor.
At this time, there are fewer than 3,500 Certified Balloon Artists worldwide. We are proud to be the only practicing CBA in the State of New Hampshire!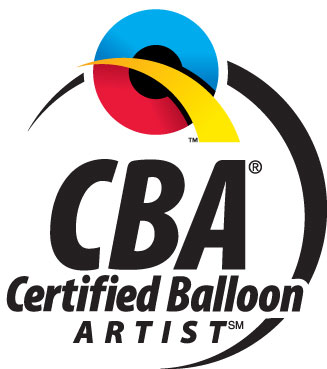 ---
Can I visit Eye Candy Balloons?
---
​No need, we come to you! We are an event decor company and at this time, are focused on designing + creating amazing decor for your event with balloons that enhances the atmosphere and ambiance of your event. We work from a private design studio, which is not open to the public (like little elves behind the scenes), and then spend time onsite at the event space doing the installation and setup work.
---
Is Eye Candy Balloons insured?
---
You bet! We are absolutely a fully-insured company for our protection and yours!
---
---
To help you prepare for working with us we've answered some FAQs below.